A while ago a very interesting email arrived in my inbox. It was from Meredith Davis, a children's book author from Austin, Texas. The subject line was "monarchs and strong like a butterfly." I was intrigued! Meredith had written me a lovely email telling me she heard that I am writing a book about monarch butterflies and that her own book features the phrase, "strong like a butterfly." In her context the phrase describes a young, brave Rwandan girl who is trying to walk. Meredith wanted to introduce herself, point out our mutual link with butterflies, and wish me luck with my books. How lovely! I am always uplifted by the kindness of strangers. And I love meeting other children's authors.
I was excited to learn that my local bookstore carried Meredith's book. I ran out and bought it.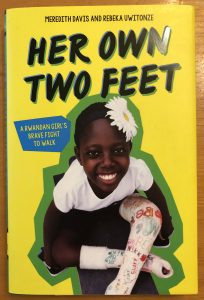 Her Own Two Feet is about Rebeka Uwitonze, a young Rwandan girl who was born with arthrogryposis, a disease that caused her joints to contract, resulting in stiffness, clubfeet, and muscle atrophy in her arms. As a result, she cannot walk. Meredith and her husband, Clay, learn about Rebeka's condition and offer to bring her to the United States where she can receive treatment that will hopefully allow her to walk on her own. Rebeka travels to America, gripping tightly to the dream of one day being able to walk and run like other children.
This book hooked me from the first page, where we learn how difficult it is for Rebeka to do such simple, taken-for-granted things like going to the bathroom. From the beginning we see how incredible Rebeka is with her determination and unbreakable spirit. We follow her on her journey to the U.S. where the culture and language are so tremendously foreign to her. I can't imagine being plunked into a foreign land, not being able to walk or understand what other people are saying! I was especially moved at the end of each chapter, where Rebeka speaks in her mind to her younger sister, Medea, who is back in Rwanda. Through these thoughts, Rebeka's struggles, hopes, fears, and resilience are laid bare.
Meredith's prose is filled with love and hope. She writes with a lovely, engaging style that makes you want to keep reading until the end. She weaves in simple details that make you feel as though you're standing right beside Rebeka, seeing the world through her eyes. You cannot help but cheer her on! With each chapter my wonder for Rebeka's strength and resiliency grew, along with my admiration for Meredith and her family, for all of the love and support they provided for a little Rwandan girl.
Her Own Two Feet is a beautiful, uplifting story. It is all the more incredible because it is true. It illustrates the power of hope, love, and empathy for other human beings. It reminds us that the world is filled with kind and compassionate people. It also reminds us of our own inner strength, which, if we allow it, can let us overcome seemingly insurmountable challenges, just like Rebeka.
Rebeka is truly a superhero. She is undoubtedly "strong like a butterfly." May her story and inspiration be shared far and wide.