I was browsing Twitter one day when someone posted this book cover: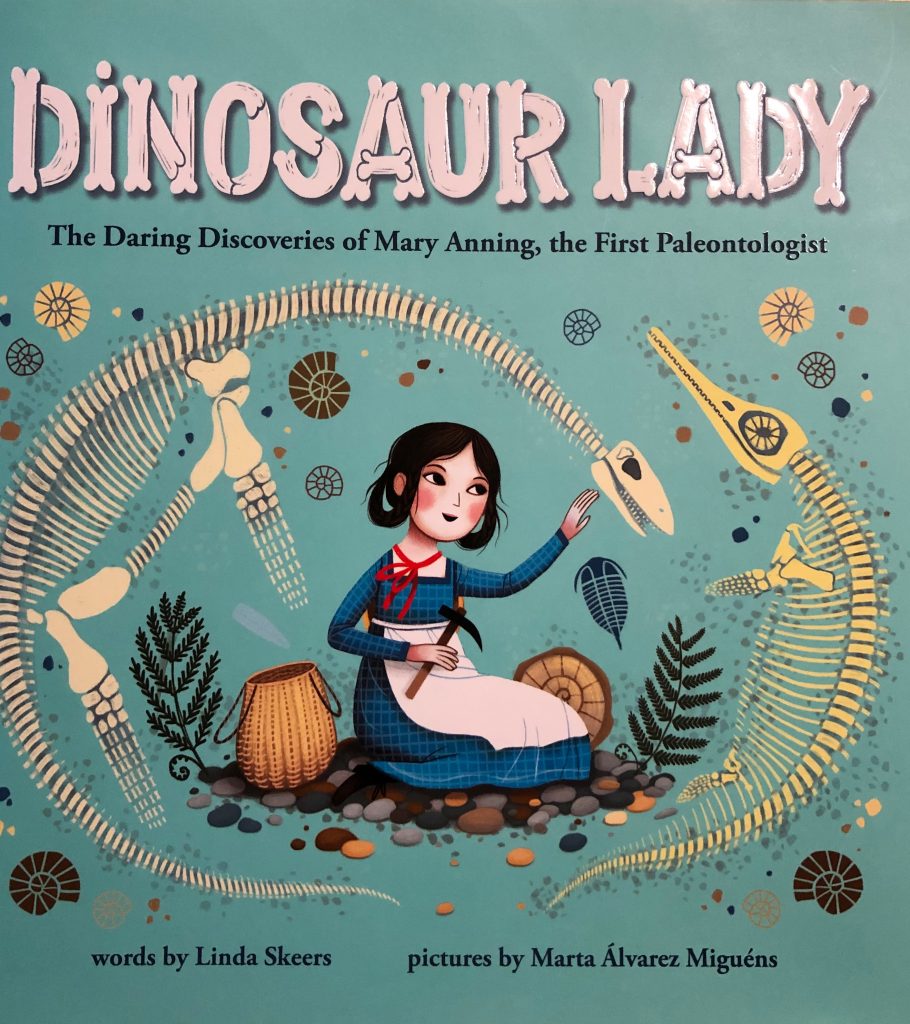 What?! My heart skipped a beat. Dinosaurs? And a woman who studied them? I couldn't click purchase fast enough on my local bookstore's website!
As a kid I was fascinated by dinosaurs and for a long time I wanted to be a paleontologist when I grew up. (Jurassic Park is still one of my most favourite books and movies.) Then at some point in high school I realized paleontology involved trekking to and roughing it in remote places, and looking for fossils could be like looking for a needle in a haystack. Camping is not one of my favourite pastimes and I didn't think I had enough patience to search for bones, so I abandoned the paleontologist career path. Do I regret that decision now? Maybe a teensy bit.
Anyway…I was beyond excited to dig into Dinosaur Lady. (Oops, bad pun. Sorry!) This book is about a young girl in the 1800s named Mary Anning, who scoured the English seaside near her home for fossils. Originally she collected them with her father to sell to tourists, but she quickly became fascinated with them. Then one day she came across dinosaur bones, and she was hooked. Over the years she kept searching, made copious notes, and made several ground-breaking discoveries. But being the 1800s, women were not taken seriously and not granted the same privileges as men. This book follows her journey and perseverance despite the many obstacles she faced.
Author Linda Skeers does an absolutely wonderful job of using simple prose for young readers while weaving in paleontological terms here and there. I feel this is so important, since it makes paleontology accessible to the young reader as something that they too can pursue. Ms. Skeers guides you along Mary's journey with suspense that keeps you reading. The reader is rooting for Mary! Ms. Skeers portrays her as a true inspiration for young children. Through Mary, she shows that curiosity, bravery, and perseverance can lead to discoveries and learning beyond imagination. Even as an adult reader, I felt inspired.
Beginning with the cover, the artwork by Marta Álvarez Miguéns immediately drew me in with its mixture of whimsy and detail. I love the colours and crisp lines. I also love how Mary is illustrated: she has a softness and friendliness to her that is so inviting to the reader–you want to follow her everywhere. I am drawn in by her deep, curious eyes. One of my favourite illustrations is the rear view of Mary climbing over rocks on the seaside in the rain. Ms. Miguéns captured the determination of a young child so perfectly.
I adore this book. It is one I will read over and over again. It brings back my love of dinosaurs and lights a little flame in me to keep going in whatever I choose to pursue, no matter what the obstacles. I am so glad I learned about Mary and that she is finally given the spotlight she so rightly deserves. I can't wait to read this book to my own children.
Book Review
Dinosaurs
Mary Anning
Paleontology