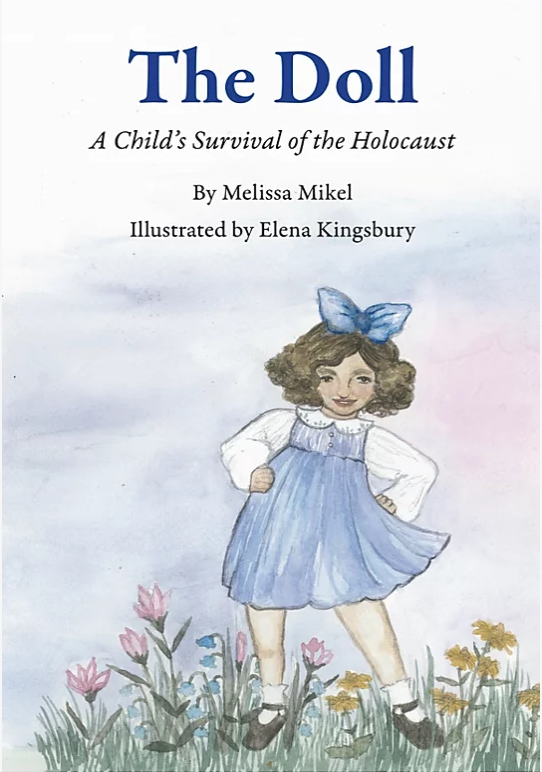 Imagine, as a child, being forced from your home with only the clothes on your back and your most precious belongings tucked under your arm. The reason? You and your family are Jewish.
Tragically, this was the fate of over a million families during World War II. In The Doll: A Child's Survival of the Holocaust, author Melissa Mikel tells the story of this very dark period in history through the eyes of 7-year-old Faigie Libman. Faigie and her family had to leave their home and live in the ghettos of Lithuania during the persecution of the Jewish people. The only possession Faigie could bring with her was her Shirley Temple doll. Her doll was a source of joy, comfort, and hope, especially when Faigie and her family's situation became terribly worse.
Despite such a difficult topic, Melissa tells Faigie's story with grace and with just enough detail to make the reader grasp the gravity of the time. I kept turning the pages, eager to find out more about Faigie, her family, and the millions of Jewish people. The title of the book includes the word "survival," and I think this provided the hook for me to keep reading, to find out how such horrible circumstances could eventually result in a happy ending. But Melissa's wordsmithing quickly reeled me in as well, all the way to the end of her Afterword at the end of the book. I wanted to keep reading! Never preachy or "teachy," Melissa tells Faigie's story with utmost compassion while not shying away from the truth.
Elena Kingsbury's artwork throughout the book is very striking. Her use of pencil sketches with watercolour provides a somber undercurrent throughout the story, which I feel is a brilliant choice. The colour that pops from the Shirley Temple doll provides the sense of optimism that the reader is looking for to lead them through the book.
I think The Doll would be perfect for my 9-year-old son to read. He is learning about history in school, and The Doll would be such a great tool to show children his age that humans have a very dark past, but there is also immense kindness in the world. I can certainly picture teachers reading this book to their class as a critical part of the curriculum. But I also believe that this book is important for adults to read, too, to remind us of the choices we have, and the consequences of, how we process and react to people's differences. And to remind us of the power of kindness.
Want to read The Doll yourself? Or read it to a child you know? I highly recommend it. You can purchase it here.
Book Review
Holocaust
The Doll