The other morning I was sitting at our dining room table (my writing spot) when I noticed some commotion outside our front window. Two small birds were flitting around one of the light fixtures above our front porch. My heart swooped. Are they thinking of building a nest? In the past birds had used our light fixtures as a home but it's been a long time since that happened.
(Which makes me wonder, why did they stop building nests there? How does a bird decide where to build its nest? Does it depend on the type of bird? Questions for another day and another blog.)
A little while later, when the birds were not around, I went outside to look. They WERE building a nest! Hooray!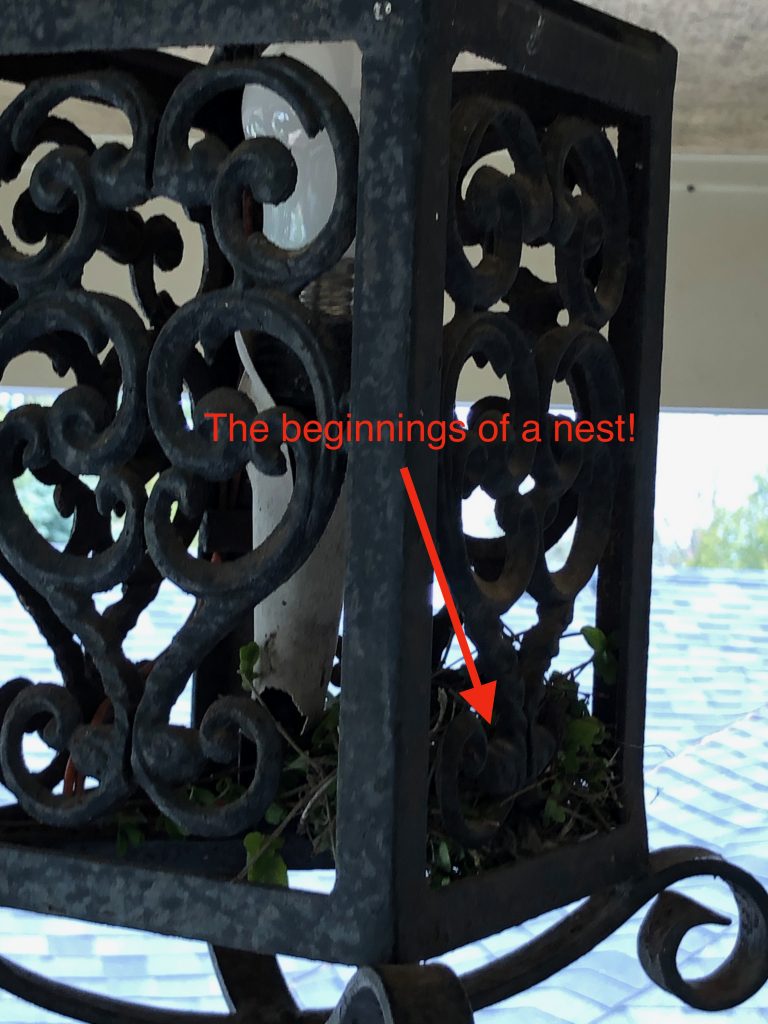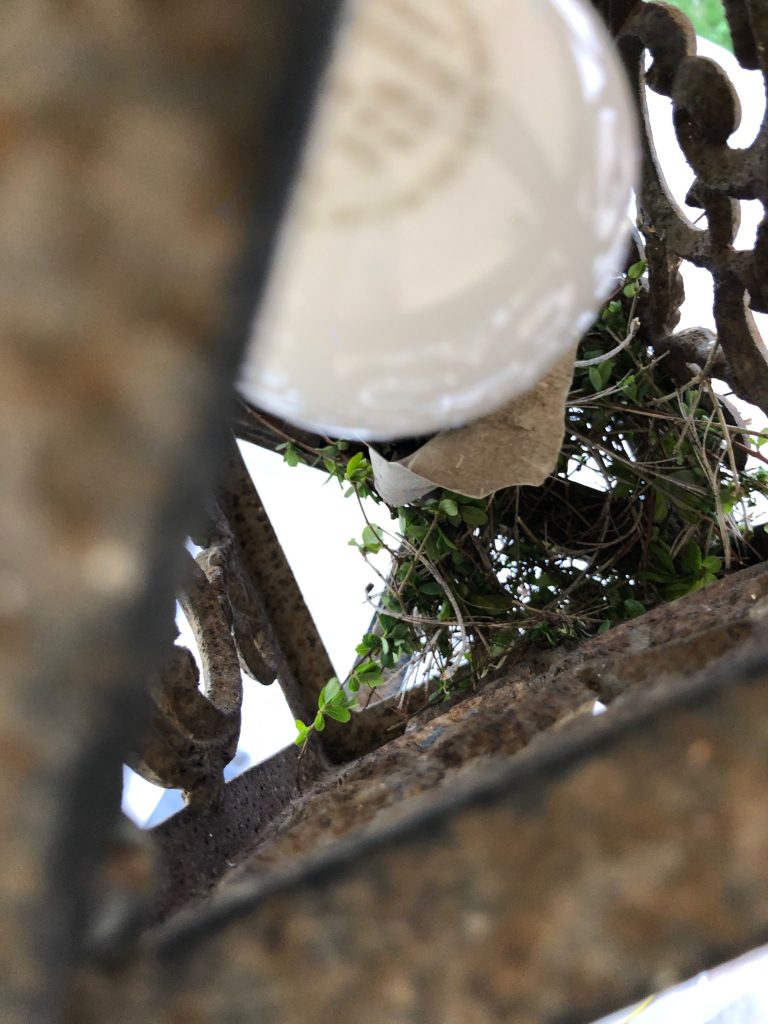 It is amazing how fast those birds work. I didn't time them, but it was like less than an hour or something from when there was nothing in the light fixture to the scaffolding of a nest seen in the photos above.
Then I felt a twinge of panic. What if we turned on the porch lights at night? With two small children in our house I couldn't guarantee that everyone would remember to leave the lights off. The light would blast the birds and they'd be terrified, I'm sure. And then they might abandon the nest and they'd have to find someplace else and start all over again. And selfishly, I want the birds to stay so I can watch them start a little family!
I have to unscrew the lightbulb, I thought. So I waited until the birds were gone, stepped up onto a stool, and tried to unscrew the bulb. But it was tricky. Because of the metal ornate design it was hard to get my fingers around the bulb. Then I got it, and unscrewed it…but then it fell onto the nest! AAAaaaahhh!!! Isn't there a saying somewhere that if you touch a bird's nest the bird won't come back?? Nooooo!!! I panicked. I frantically reached in amongst the (annoying) metal loops and swoops of the fixture and eased the lightbulb up so it rested on top of the socket. Phew. I hope the bulb didn't contaminate the nest…
(Note: Here is what Scientific American and the Alaska Department of Fish and Game have to say about disturbing birds' nests. According to them, birds might abandon a not-quite-finished nest if it is disturbed. But birds will not abandon their babies.)
I hurried back inside, crossed my fingers, and waited eagerly for the birds to come back. And they did! Phew. They worked on their nest and by the end of the day, it looked like this: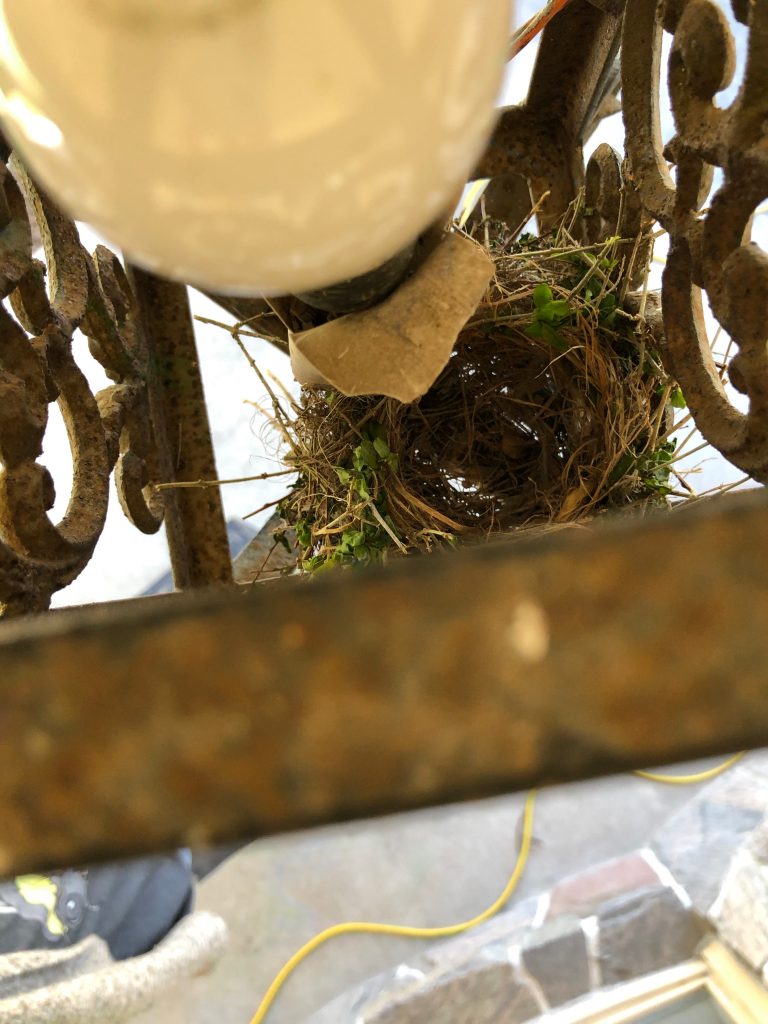 By the end of the next day, the nest looked completely finished: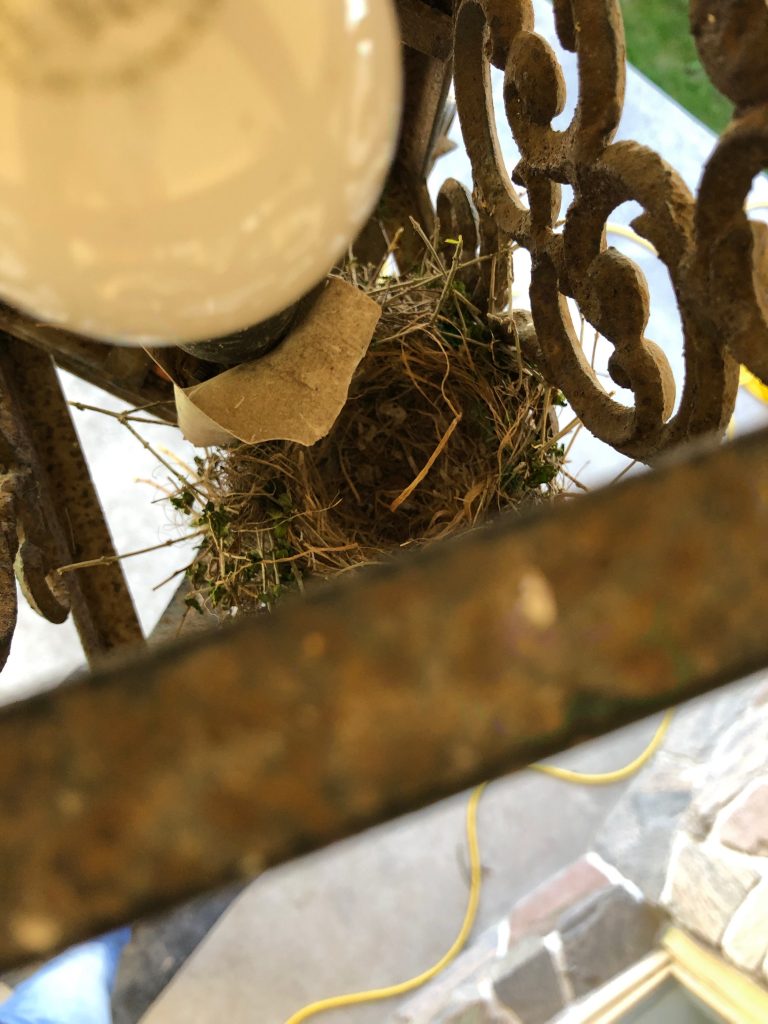 Next, I wanted to figure out what kind of birds we are hosting. I saw them flying around the nest and they were always moving, so it was hard to get a a good, close-up look. (I watched them from inside our house at our front window.) And each time a bird was in the nest, all I could see was her butt! She always faced her butt to our front window: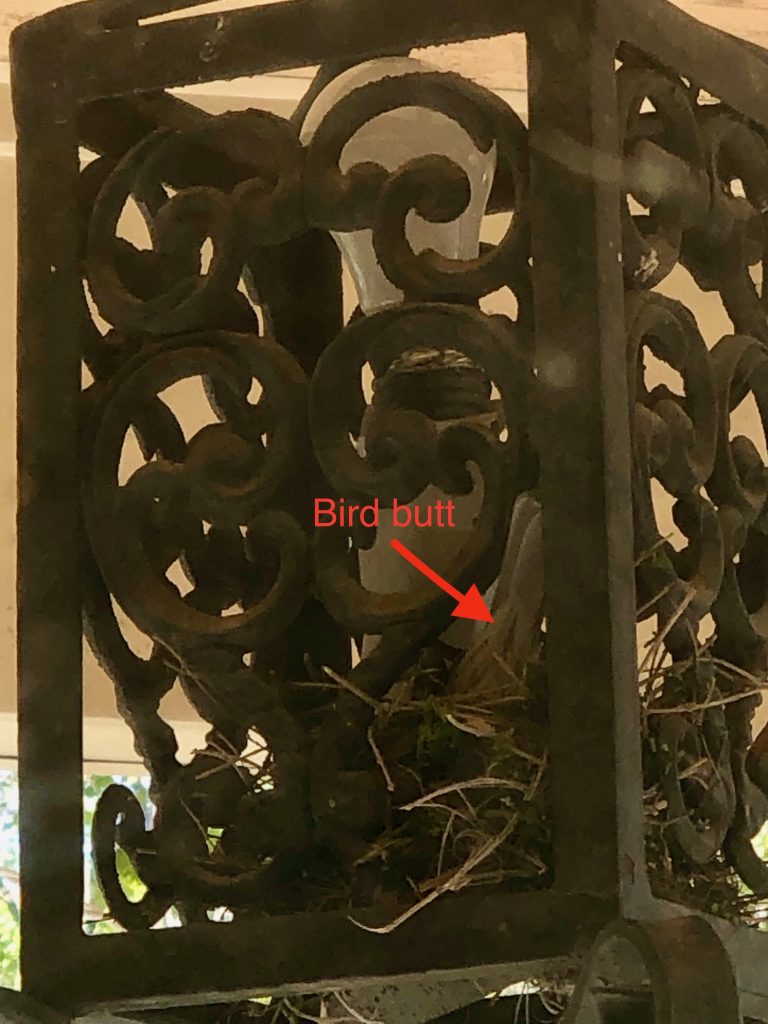 From what I could see when the birds had been flying around building their nest, there was a male and a female. The male had soft, blushy red around his head and neck, and the female was a speckled brown. After looking at photos online I think we have a family of house finches (Haemorhous mexicanus).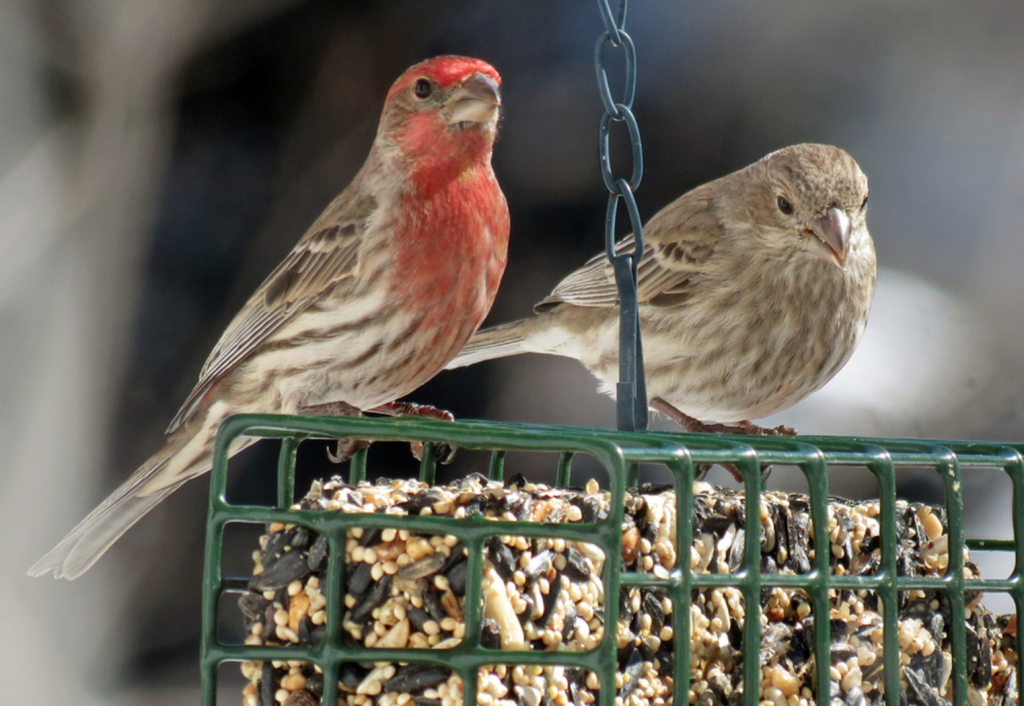 For the past couple of days whenever I look out our front window, I can see the momma bird hunkered down in the nest. I can just see the top of her head. If she's staying in the nest a lot, that could mean she is laying, or has laid, eggs!
Yesterday I waited until momma left the nest for a bit (probably to grab a bite to eat?). I peeked into the nest and…look what I found!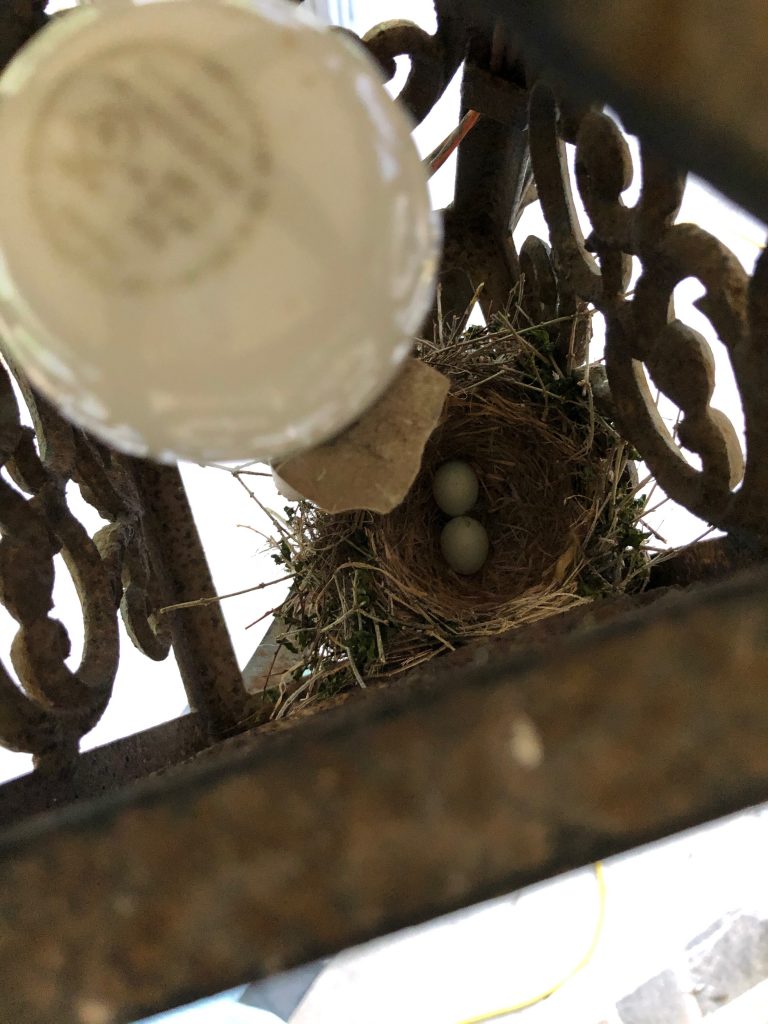 Yes, I am a huge animal nerd. But there is something so sweet and heartwarming to know that you're sharing your home with little wild sparks of life.
I'll keep you updated!