I was at my local library the other day, slowly making my way down the aisles of the children's nonfiction section, looking for my next read. I came across World Without Fish by Mark Kurlansky, illustrated by Frank Stockton. The title caught my attention. I don't know much about fish, and I never thought of a world without fish before.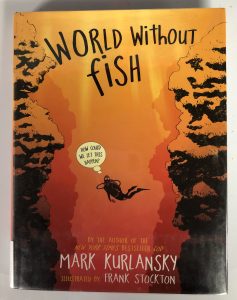 Mark Kurlansky is a former commercial fisherman, and he tells the story of how humans are overfishing and decimating fish populations in the world's oceans. What effect is this having on ocean ecosystems? What if fish were to actually disappear? And maybe not all fish, but even a species or two? Mark explores the answers to these questions as well as possible solutions. He shows that addressing the problem of overfishing is not as simple as stopping all fishing and quitting eating fish. Pollution and climate change are also harming the fish populations. So what can we do about it? Mark introduces a number of existing organizations that readers can become involved with, and he also outlines steps you can take to start your own movement for change.
I learned a lot about the fishing industry, ocean ecosystems, and how sometimes scientists can draw the wrong conclusions. Mark often refers back to Darwin's theory and it's cool to show how older ideas like Darwin's are still extremely useful. World Without Fish was hard for me to put down. Mark has a very engaging voice and it certainly felt like he was writing from passion and experience. I also really appreciated the visuals in the book. The text was periodically broken up by a larger, coloured font that drew your attention to important points, like this: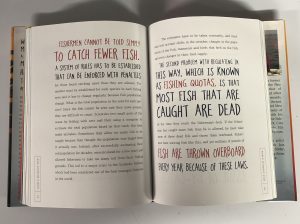 Also, each chapter ended with a comic that had its own story that unfolded throughout the book: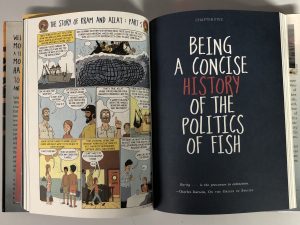 I tend to find graphic novels a bit too visually overwhelming. The balance of text and comics and playful fonts in this book was just right for me. And Frank Stockton's artwork is fantastic.
I highly recommend this book for middle grade (ages 8-12) readers and adults, too. It really made me stop to think about the fish I eat and the fish I've seen on restaurant menus. It made me appreciate even more the delicate balance of life in the oceans, and that if there is unbalance, nature has a way of evening the score. It also reminded me that extinction is forever. We lose sight of this often. This book reminded me that it's time to take a hard look at how we can do things better, before it's too late. Mark and Frank's book provides us with an excellent starting point and reference.